Department of ENT (Otorhinolaryngology)
The Department of ENT in J.J.M.Medical College was started in 1968 by Late DR.V.VEERANNA. at Chigateri General Hospital. The department grew with Joint effort by eminent ENT Professors like Dr. V.T.GANGAL , Dr. NELVIGI, Dr.M.SHANKAR ,Dr.K.R.MRUTHYNJAYA,Dr.P.MARULAIAH, Dr.S.M.SIDDALINGAPPA.
In the year 1985, a new ENT unit has been started in the BAPUJI HOSPITAL The number of P.G's admissions per year has been increased from Two to Eleven.
Currently the Department is headed by Dr.K.P.BASAVARAJU,with Ten other Eminent Teaching Faculty. The Department consists of Five units, Three unit in Bapuji Hospital, and Two units in Chigateri District Hospital. The department is well equipped to conduct all modern surgeries and U.G & P.G. Teaching programme.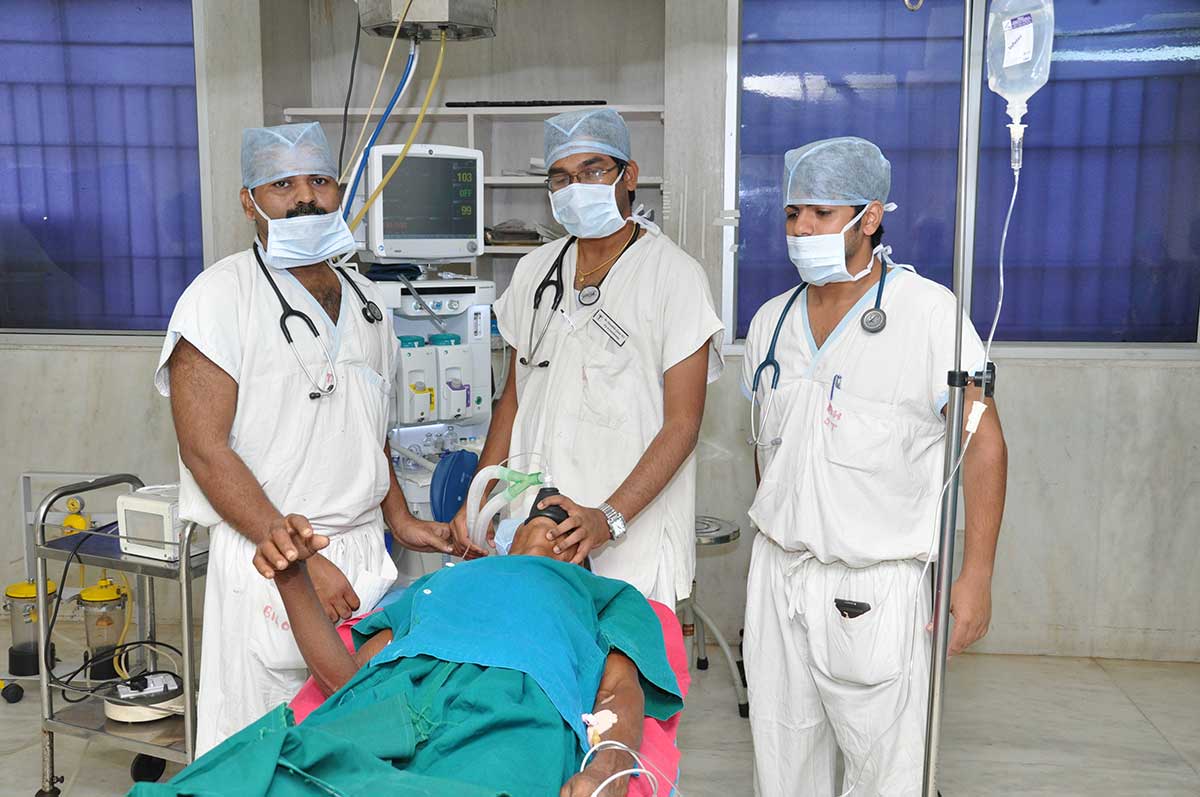 Our Awards and Ranks:
Dr. U.P.SANTOSH has bagged DR.C.M.GURUMURTHY GOLD MEDAL for Teaching Faculty at Karnataka State ENT Conference in 2013 held at K.M.C,MANIPAL.

U.P.SANTOSH has bagged DR.C.M.GURUMURTHY GOLD MEDAL for Teaching Faculty at Karnataka State ENT Conference in 2018 held at M.I.M.S., MANDYA,

Dr. ABHINAV KUTHIYALA P.G. in ENT has bagged GOLD MEDAL for Case presentation at Karnataka State ENT Conference in 2017 held at SNMC BAGALKOT.
Facilities in ENT Department:
The Department of ENT J.J.M.Medical College is well equipped to treat all ENT problems.

Our department have Twelve Eminent Teaching faculty, a well qualified Audiologistwith equipments to do all audiological Test's like PTA, Impedence Audiometry,OAE and BERA, in air conditioned sound proof room.

In OPD our department is having six ENT examination units at Bapuji Hosital and Endoscopy room to do flexible Nasopharyngoscopy and single chip Storz camera to do Diagnostic Nasal Endoscopy.

ENT Department is also having Air conditioned Seminar room with Audio-visual LCD Projector equipment for Post-graduate and Under-graduate Teaching.

Our department also having well equipped Temporal bone Lab and FESS Lab to train Post-Graduates.

In ENT OT our department is having all the necessary equipments to do all Modern ENT Surgeries like Micro ear surgeries, Endoscopic sinus surgeries, Micro laryngeal surgery and Head and Neck surgeries. We have two ZESS operating Micro scope with Micro motor, Storz (spice) camera with storz Endoscopes and Microdebridor to do Endoscopic sinus Surgeries.